Since the days of the apostles, Christ's teachings in Scripture have been best transmitted and practiced through the structure of the church. Strong local congregations are essential to the spread of the gospel. In this conversation Director of HIM Latin America Eric Kuhns explains how God helped him and his family plant several churches in Honduras. And he shares how those churches are making an eternal impact in their surrounding communities.
Why are local churches and the planting of churches so important in missions—or anywhere?
Church planting is the natural outflow of the Great Commission. If believers are being converted, discipled, and baptized, they will make either congregants or congregations. You cannot disconnect the Great Commission from the church. The disciples who were present to physically hear the last words of Christ before His ascension showed us how they understood those words. They began to preach and to plant churches. The hundreds of new converts won on the day of Pentecost began to meet in homes to break bread and to hear the Word of God. The goal of missions ultimately should be to establish the church, the body of Christ. Our humanitarian efforts, our schools, distribution of literature, outreach, or whatever our ministry may be should never be an end in itself but should be done to edify and strengthen the church.
How has God helped you plant churches in Honduras?
It has been an exciting journey. God clearly showed us that church planting is very much a Spirit-led endeavor. It must be built upon a lot of prayer, fasting, and outreach. You do not just say one day, "I'm going to go plant a church." It was through the leadership of the Holy Spirit that we came into contact with key people who were converted, and then they invited us to minister to their family and friends. We asked God for the first church—people were asking us for the second and third churches. It is definitely a spiritual process—keeping in step with the Holy Spirit. And church planting is an exciting and fulfilling work!
What are some ways the churches in Honduras work to impact their communities?
The people love to serve! They have come up with creative ideas and have looked for opportunities to share the gospel. In Latin America it is all about whom you know. The gospel flows through relationships. People have had house services with neighbors and friends which has opened up opportunities for us to minister to new families. Through acquaintances, the Cressmans were able to go with our church people and hold services in public schools. Our people have accompanied us to the prison to take food and share the gospel with the inmates. There have been outreach emphasis times where we have gone door-to-door inviting people to church and giving them tracts and church flyers. Our people use their jobs as a way to connect with needy people and then build on those relationships. We have taken meals into the hospital and have preached to people who are sleeping on the sidewalks because they have a family member hospitalized. There are numerous ways our church people have ministered in their communities.
How do the activities you described impact the attitudes and actions of your church members?
Getting them involved in ministry helps them to be more introspective on their own spiritual condition. They have to ask themselves, "If I am going to minister to others, am I where I need to be spiritually?" It pushes them to learn more so they are prepared to answer people's questions, and it helps them to be focused on others rather than on themselves.
Which of the various methods of ministry outreach from the local churches in Honduras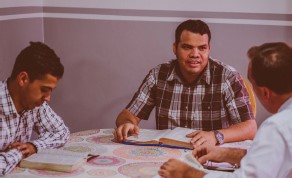 seem to have been most successful?
Hands down, friendship evangelism would be the most effective method. The culture is all about family and friendships. Once a person learns how to network the gospel, there is no stopping it! A friend tells a friend, and that friend tells their family, and so on. The other methods have had their successes but nothing near that of friendship evangelism in our context.
What do you have to say to local churches in America? How would you like to challenge or encourage congregations in the United States?
There is a lot I would love to say to local churches in the US. To the ones who have three, four, five or more pastors attending your congregation, could you start a daughter church with one or two of those pastors, launching out in a new town or neighborhood where there is a desperate need? I would encourage congregations to try out "cell groups" or house services. Get two or three families from your church together and invite a neighbor family to the meeting. Make it informal, yet share the Bible and discuss how to serve Christ better. Look for ways to minister to minority groups in your community. Could you start a Hispanic church, a Muslim outreach, a ministry to Amish? Don't worry about the trends, the fads, the best-sellers. Get serious with God and get His heart, His passion, and His plan for your church. Don't give up asking, praying, and hoping. The size of your church does not have to be an excuse not to try. Rise to the challenge—God wants to do great things for His glory!
~Eric Kuhns, Director of HIM Latin America