2019 has been a year of encouraging progress with missionaries who joined the team in 2018 being acclimated and effective in ministry! Matukeng Health Centre is the oldest ministry connected with HIM in Africa. This clinic has grown to one of the highest rated health facilities in the nation. Angela Thornton's long nights in the labor ward, morning devotionals, and intercessory prayer have been used by God. People have come to Christ.
Wes and Misty Peterson have designed a system to assess the needs and progress of orphan and vulnerable children HIM is helping. They have also trained national staff to administer this on a quarterly basis. We are supporting more orphans than ever before. Wes Peterson has also led our "Firm Foundations" building project at Matukeng. A road has been put in, a building site for a conference tabernacle excavated, a well drilled, and the roof is on the first house. This home will produce income that will help the national church in Lesotho reach more people with the gospel. The plans include building a conference tabernacle that can accommodate 300 or more people and several more rental houses.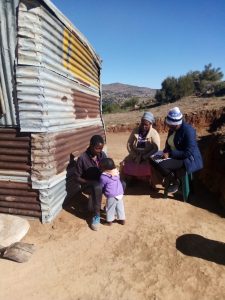 In the summer God helped us provide Shepherd's Global Classroom curriculum to forty pastors in Zambia. God is putting people and organizations together to publish, distribute, and teach these books in South Africa and other neighboring countries. Rev. Tankiso and Johan van der Merwe are training young men to re-open the church in Mauernsek, South Africa. The children's
ministry the Motovilovs started and Angela Thornton continues will provide a good foundation.
Another exciting area of progress is the church HIM is planting in Lebakeng, which can only be reached by plane or on foot. A clinic employee has become a Christian and wants to spread the gospel there. Jesus has promised the very gates of hell cannot prevail against His church. His Kingdom IS growing in Africa.
~Glenn Gault, Director of HIM Africa