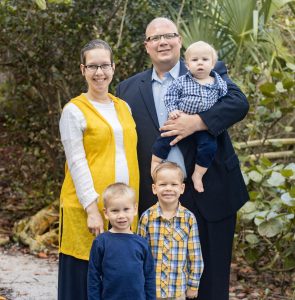 Jonathan was born and raised in Indiana. He remembers how as a student at Penn View Bible Institute, God first asked if he would be willing to serve as a missionary. Feeling a peace in his heart, Jonathan accepted the call. A few weeks later, God specifically placed it on his heart to minister to the Muslim world.
Victoria was born and raised in Florida and attended Penn View for one year where she and Jonathan met. They were married in 2014 and God has blessed them with three children—Elijah, Isaiah, and Ezekiel.
The Grays pastored a church in Orlando, FL, for three years. In 2018 they felt God opening the doors to finally pursue their missions calling. They moved to Dearborn, MI, to complete a three-month internship and worked with a mission telling about Jesus through teaching English. Their time in Dearborn further clarified God's call to spend their lives winning Muslims to Christ.
In August 2019 the Grays moved to Michigan where they are ministering among the largest concentration of Muslims in America. Their passion and vision is to see Muslims all across the world come to know Christ. Understanding it takes time and preparation to minister among people of this religion, Jonathan and Victoria are enrolled in focused training, learning more about Islam and how to effectively share the gospel with Muslims. They long to see God do something radical in the Muslim world within their lifetime. Thank you for your prayers and support as they labor for Christ!
Philosophy of Ministry
Jonathan and Victoria affirm that the message of salvation is for all. Romans 10:13 says "For whosoever shall call upon the name of the Lord shall be saved." However, before Muslims can be won to Christ, they must first be shown that they are cared for and loved. Through teaching English and helping to meet other needs, the Grays anticipate growing deep relationships with their students and show them what godly love is. Through these relationships, they believe God will help them lead Muslims to Christ.
A Note from the Grays
"Thank you to all who have supported us both in prayer and finances. God is doing wonderful things among the Muslims, and we are excited to see what He has in store for us. Romans 10:15a says, 'And how shall they preach, except they be sent?' We have this opportunity because of senders like you. Thank you, and God bless."