Throughout the history of our great nation it has been customary for the president of the United States to give Congress information related to the State of the Union. Article II, Section 3 of the US Constitution states that the president "shall from time to time give to the Congress Information of the State of the Union, and recommend to their Consideration such Measures as he shall judge necessary and expedient."
Though today the "State of the Union" speech has largely become a partisan spectacle—made for the American public more than Congress—the event does provide a sitting president time to reflect on how our nation is fairing and to lay out his direction and priorities for the upcoming year.
Thankfully, as the president of FEA Ministries I do not have to spend much time debating our direction. Throughout our 73-year history great leaders have shaped this organization leaving a firm foundation and direction on which to build. Our mission remains unchanged and is stated succinctly:
FEA Ministries is a conservative holiness organization within the Wesleyan-Arminian tradition with a mission to serve the church and reach the world by making disciples through evangelism, church planting, education, fellowship within the body of Christ, and ministries of mercy.
Everything we do here at FEA Ministries—whether through the international outreach of Hope International Missions, Sea Breeze Camp, or within Sea Breeze Community—is filtered through the declarations included in this statement. Our direction is set; our mission remains clear.
And yet as each year ends and a new one begins, I find myself contemplating the past and looking to the future. Questions arise such as: What can we do better? How can we be even more effective in sharing the love of Christ around the world? How can we continue to improve as an organization? What should our priorities be for the new year?
When looking closely at our mission statement, you will notice it clearly states what we do—we serve the church and reach the world by making disciples. I am pleased to report that God continues to help FEA Ministries be effective at disciple making. One of the most rewarding aspects of my job is regularly communicating with our missionaries serving around the world and hearing first-hand stories of lost men, women, and children coming to new faith in Christ. God's command for his followers to "go into all the world and make disciples" is what motivates us to serve and will continue to be the primary focus at FEA Ministries. Here is one example from last year.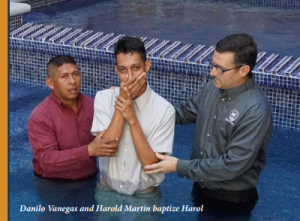 In March of 2019 I was privileged to travel across Latin America with John Dykes and HIM Latin America Director Eric Kuhns. We visited several countries and many HIM churches and pastors. On a Sunday we were in the large city of Managua, Nicaragua. Our pastor there is Danillo Vanegas, an outgoing man with a heart for people. He asked if I could baptize one of his church members during our visit. Having just recently been ordained, I was honored to accept the invitation, but I will admit I was nervous as this was my first baptism. The young man's name was Harol. It was extra special for me that the first person I baptized shared my name— though in another language. He gave a clear testimony explaining that during a youth retreat in Honduras hosted by the Kuhns, he had realized his need of a savior. He responded to an invitation to give his life to Christ and was made a new creature in Christ Jesus. Harol faithfully attends the HIM church in Managua and is growing in his faith! Making disciples is central to who we are, and that focus will continue to be our primary drive in all we do at FEA Ministries.
You will notice however that our mission statement specifies we will make disciples by serving the church and reaching the world. Making disciples is easily understood by most Christians. As I have contemplated the ministry of FEA in the past and the unique opportunities twenty-first century America presents, I feel it is time to focus more closely on "serving the church." What does this mean?
The two primary ways FEA Ministries has served the church throughout our history has been through the outreach of Sea Breeze Camp and Sea Breeze Community. The impact of Sea Breeze Camp continues to grow. Our Spanish Camp has nearly 800 in attendance for each service. Thousands view the English services online. Many northern visitors representing hundreds of churches return home each year refreshed and spiritually energized to keep up the "good fight of faith."
Retired pastors, missionaries, and Bible college educators from various denominations live on our campus. Though providing housing at an affordable cost is an ongoing challenge, Sea Breeze Community has been a blessing to many, offering a safe place to live and to be involved in the ongoing ministries on campus. Thankfully numerous upgrades have been completed including repaving streets and significant improvements to apartments and guest room facilities.
Looking at 2020 and beyond however, I find it imperative that we begin to focus intentionally on "serving the church" with relation to Hope International Missions and our missionary outreach endeavors here at home and around the world.
FEA Ministries can serve your church in this area a couple of ways. First, we want to facilitate sending your missionaries! Jesus never called his followers to plant missionary-sending organizations, but He did call them to make disciples, band those disciples into groups of believers called churches, and then for the church to send out ministers to the "uttermost part of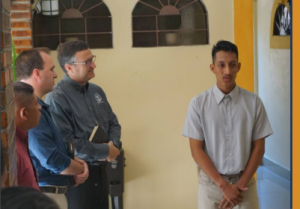 the earth." Our prayer is that churches—your church—will be marked by the presence of God, that men and women will be filled with the Spirit, and that missionaries will be called to the foreign field. HIM can provide the organizational expertise for sending missionaries to meaningful ministry assignments around the world, but there is no substitute for the local Spirit-filled church in the spiritual development and calling of qualified overseas workers.
In the early days of Christian missions, foreign missionary service was the primary option. This has changed. FEA Ministries can serve your church in the twenty-first century by coming alongside you as you take advantage of the opportunities for cross-cultural evangelism right here at home. Our world is on the move. Millions upon millions of people are leaving their countries seeking freedom from oppression and looking for financial opportunities. This movement of people has brought enormous political challenges our government cannot ignore. But at the same time have come powerful opportunities for cross-cultural ministry. The church has spent billions of dollars to send missionaries around the globe—today abundant opportunity to reach the world is next door.
Thankfully in the 1980s and 90s Dr. Glenn Reiff, Sidney Grant and others saw the need to reach into the Hispanic population moving into South Florida. Today because of their vision and the labors of many in this local church, HIM US Spanish Ministries has twenty churches across the United States—churches that are growing and making disciples. From these churches men and women have returned to their home countries in Latin America to plant churches there as well.
Hispanic immigrants are not the only ones moving to America in large numbers. In major cities across the US are large populations of Muslim immigrants from the Middle East and Northern Africa; Asian immigrants from China, Indonesia, and the Philippines—immigrants who need to hear the gospel of Jesus Christ. We thank God there are local churches reaching into these communities with the love of Christ. HIM is proud to partner with churches who desire to make an impact cross-culturally in their local communities.
Fritz Kling in his book The Meeting of the Waters says this about the migration of people around the globe. "Thousands of residents in New York City are far more connected to the Philippines, Haiti, Columbia, China, and Nigeria than they are to New Jersey or Connecticut…. Having been uprooted from their traditional settings, they arrive to their new urban home at a stage of heightened openness to new ideas and change." It is our desire at HIM to insert the gospel at this crossroad of openness and change.
In light of our desire to see FEA Ministries "serve the church," we have chosen Local Church—Global Impact as our theme for 2020. Your church can make an impact cross-culturally both here at home and overseas. FEA Ministries desires to partner with you in making this global impact right from your local church.
From my vantage point the state of FEA Ministries is strong. Financially, God has blessed! Our home office and missionary staff is second to none! But our greatest need is for more missionaries. Each of our fields has immediate needs—cross-cultural communities in the shadow of your church need to be reached. FEA Ministries stands by ready to help. Together we can make a difference for eternity!
~Harold Martin, President