What are the dates for Sea Breeze Camp?
Sea Breeze Camp always begins the first Thursday of February and runs through the second Sunday. This year the dates are February 3-13, 2022. 
How can I watch the services online?
Click here to watch the live streaming of camp services. We are grateful to our partner ministry, Hobe Sound Bible Church, for their excellent work in providing this service!
What to do upon arrival?
Check in is at the Camp Office located in the campus center parking lot beside the Post Office. Look for the "Camp Office" sign.
How to find my way around campus?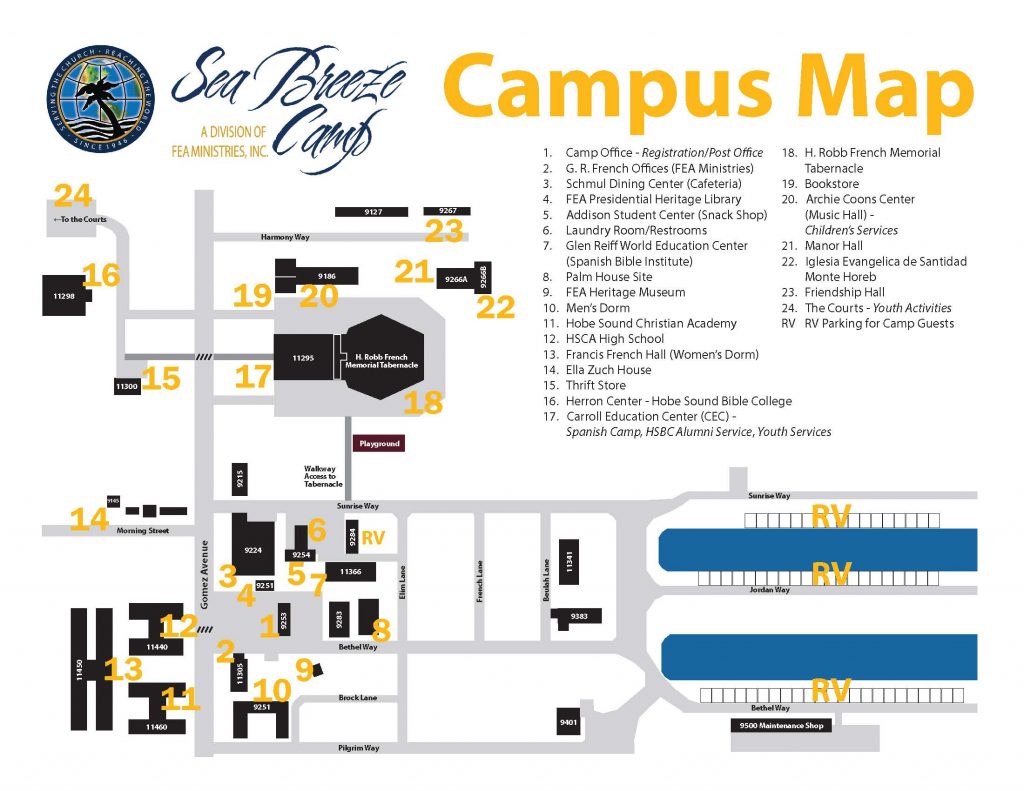 Download the map to assist you in locating key areas on campus. You may also pick up copies of this map in the Camp Office.
Is there a charge for meals?
There is no charge for meals but donations are greatly appreciated!
Are pets allowed in camp housing?
No, pets are not allowed in any camp housing.
What types of rooms are available?
Dorms: Personal rooms with a shared hall bathroom and shower room
Classrooms: The academy classrooms are divided with multiple families staying in one room. There are shared bathrooms attached.
Barracks: Barracks-style rooms with a bathroom at the end of the hall.
What types of beds are available?
Twin beds are in each room.
Are there linen's for rent?
Twin sheet sets, blankets, pillows and towel sets are available for rental.
How do I reserve a room?
You can reserve a room online at https://feaministries.org/camp/registration/ or by calling the camp office at 772-545-1400 ext. 2255. Room reservations for Sea Breeze Camp 2022 can be made starting January 17, 2022.
Who do I call if I have an emergency?
Call the camp office at 772-545-1400 ext. 2255. Phone calls are still answered outside of camp office hours.
How can I make payments?
Cash, check, and credit card are all acceptable forms of payment.