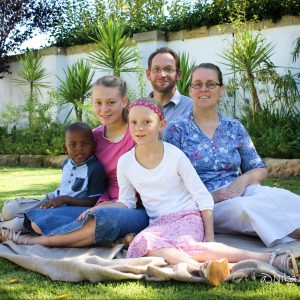 Glenn and Stephanie have been serving HIM in Lesotho, Africa, since 2000. During their seventeen years there, God has blessed them with three children, Kaitlyn (2005), Kristell (2009), and Caleb (2014). The focus of their ministry has been training leaders to plant new churches, helping with children's ministry, distributing Bibles, and coordinating humanitarian projects, including Matukeng Health Centre and a growing orphan ministry.
In 2015, Glenn was appointed director of HIM Africa. The Gault's new responsibilities now include coordinating HIM's missionary efforts on the African continent, expanding ministry into new countries, and raising funds for the HIM Africa General Budget and regional projects. In order to fulfill this new role, they are in the process of handing over some of their previous ministries to national leaders and new missionaries.
They envision new holiness churches planted in the forgotten mountain valleys of Lesotho and the crowded townships of South Africa. African leaders will be trained to passionately spread the Good News into other countries. A generation of AIDS orphans will become godly, productive citizens who give back to their communities and share Jesus' love wherever they go. Disciples of Christ will be raised up even in the restricted countries of North Africa where traditional missionaries are unwelcome.
The Gaults need your help! Missionaries are needed to expand the work into new countries. Financial support for the Africa Budget is essential to fulfill the Great Commission. And most importantly, fervent prayer is indispensable if God's Kingdom is to be fully established on the continent of Africa.
A Note from the Gaults
"Thank you so much for your prayers and financial support."
Recent Newsletter