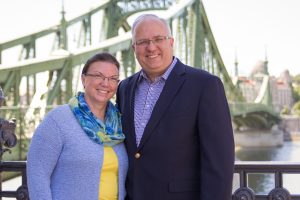 Ed and Heather Durham are the Regional Directors of HIM Europe. They have served with HIM since 2010 and are currently located in Budapest, Hungary.
Ed and Heather's professional experience includes over 25 years of ministry as pastors, missionaries, teachers, and field directors of Evangelical Bible Missions' missionary work in Ukraine. Ed and Heather both earned their Bachelor of Arts degrees at Hobe Sound Bible College and their Master of Arts degrees from Azusa Pacific University. Ed is an ordained Elder of the Bible Methodist Connection of Churches.
Ed and Heather's skills together include: the ability to provide pioneer leadership, administrative supervision, and teaching and training leaders for future ministry development. They have the unique ability to balance strategic development with deep knowledge and hands-on experience in the day-to-day operations of many types of organizational settings. Other skills include building and maintaining long-term relationships with superiors, supporters, and the people they serve. They possess the confidence to make wise decisions that lead to the accomplishment of their God-given mission and vision.
In addition to their responsibilities of leading the HIM Europe missionaries and expanding the ministry, the Durhams hold small group Bible studies, take gift bags and minister to patients at hospitals, work with Slovakian orphans at the New Horizons Transition Center by teaching them life skills, and much more. We appreciate their dedicated service and are excited for great things in the future!
Ministry Highlights
Ministry Goals
God is blessing the ministry of the Durhams. People are giving their hearts to Christ, and new converts are being discipled into mature Christians. Pray that God will help Ed and Heather as they seek more ways to reach hurting people with the hope of the Gospel! Here are some goals they would like to see accomplished:
Recovery groups for alcoholics and addicts.
A half way house for homeless people who want a changed life.
A rehab center for alcoholics.
Businesses run by businessmen and women to fund their ministries.
A college for training national pastors and leaders.
A ministry dealing with the Sex Trade.
A prayer conference for the missionaries of Eastern Europe.
Ever growing communities of believers that have a passion to bring hope and healing to those in their sphere of influence. In their own words, "We would love to have communities of believers all over Hungary and the surrounding countries that never stop rescuing the perishing."