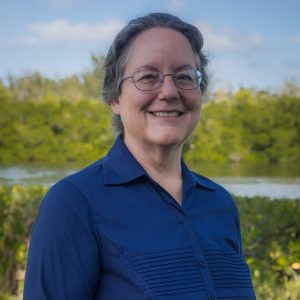 Daryl served in Haiti as a missionary nurse for nineteen years with Evangelical Bible Mission. She left Haiti in 2002 to return to Florida, sensing that God was opening new doors in her life. Continuing her education, she received her Master of Science in Nursing from Florida Atlantic University and became a Family Nurse Practitioner. Because of her fluency in Haitian Creole, she was offered a position with a FAU clinic in West Palm Beach, serving an uninsured/underinsured population of many cultures, including Haitian. She continues to work part-time at this clinic where a high percentage of her patients are Haitian. Daryl loves working with people and considers medical work a large part of the ministry God has given her. She has a passion to help others understand the love of Christ and to follow Him wholeheartedly.
Daryl married Michael Hobbs in November of 2009. They accepted an assignment to pastor a church in the Turks and Caicos Islands, where they stayed for two and a half years. While there, they were asked to also go into Haiti several times a year to begin working with the church leaders and orphans. After returning to live the U.S., they were asked to continue the ministry in Haiti and then to become the administrators for the Haiti work. Mike also served as Jon Tofte's, FEA Business Manager, assistant for three years and as the housing coordinator for FEA Ministries.
Michael became a part of HIM in 2009. Prior to this, he pastored a church in Pennsylvania for twenty years, where he raised his family and where his first wife went to be with Jesus in 2006. He also served as pastor in Indiana, West Virginia, and Michigan. In October 2020, Michael suddenly passed away. Michael had a passion for Christ and a great desire to lead others to follow Him. While working in the FEA home office for three years, Mike brought an enthusiastic, faith-filled, and joyful spirit to the office and community grounds. He is greatly missed by many people—both here and in Haiti.
Michael and Daryl worked with the HIM orphanage, school, and churches in Haiti. They provided training seminars for the teachers, pastors, and church leaders several times throughout the year. Their goal was to help these leaders be established on the firm foundation of God's Word so they can lead their people into a deep relationship with Jesus Christ. They worked with the orphans in seminars, as well as one-on-one. Assessing the spiritual, physical, and educational needs of the orphans is an ongoing task. Through frequent contact with the orphanage director, they were able to keep abreast of any needs the children may have and to seek to meet those needs. Daryl plans to continue the work in Haiti following Michael's passing. Please remember her in your prayers as she grieves the loss of her husband.
Recent Newsletter