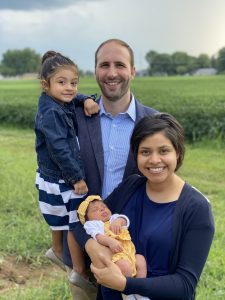 Ben and Brenda Smith are currently serving in HIM US Spanish Ministries, discipling Hispanic young people to be leaders within the holiness church.
In 2007, shortly after Brenda's family immigrated to the US from Mexico, Ben and Brenda met through the Hispanic ministry at their local church. In 2010, both of them felt led to attend God's Bible School & College where Ben majored in Intercultural Studies & World Missions and Brenda majored in Secondary Education. It was during their years at God's Bible School that they forged a close friendship, and in July 2015, they were married. In January 2019 they were blessed with little Sofia. Clara was born in August 2021.
During the last several years the Smiths have been directing the youth ministry at their local church, as well as leading in youth ministries around the US throughout the year. For the past 11 years they have been actively involved in the Hispanic ministry in Indiana. Together, they seek to pass the heritage of holiness to the next generation of Hispanics in the US.
Philosophy of Ministry
The Smiths are endeavoring to establish a community of bilingual and bicultural young Hispanic Christians who will become holiness leaders in the Hispanic community. Their ministry focuses on discipling and mentoring second generation Hispanic-Americans within the HIM US churches.
A Note from the Smiths
Thank you so much for your prayers and support! We are so excited to see God's plan unfold for these young people! Please keep us in your prayers as we endeavor to fulfill God's call in our life. Our desire is to see this next generation firmly grounded in holiness and become Kingdom leaders!