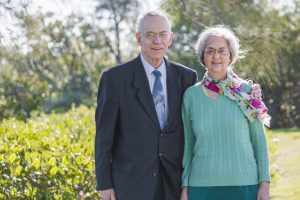 Richard and Judy Grout have ministered in Russia and Finland for 25+ years! The Grout's home church is Hobe Sound Bible Church, Hobe Sound, FL. Richard has a background in journalism and pastoring. Judy is a music teacher. Richard and Judy minister at the Christian Center in Vyborg—a charitable foundation for humanitarian aid and for correspondence courses for prisoners and their families all across Russia. It is part of a growing ministry with rehabilitation centers for former drug addicts and alcoholics, both men and women. The Christian Center works with several local centers in the Grouts' regions of Russia and Finland.
The love of Christ compels the Grouts to reach those who have suffered so much without hope, without any knowledge of God or the Bible, without adequate medical care. Their greatest joy is in giving their all in serving Christ, in being His hands extended to those who have never before received a Christian witness. Jesus is the Light and the only Hope!
God is providing the Christian Center with a dedicated staff of Russian workers, with a lovely building in a strategic location, with good transportation and communications, and with more opportunities for ministries than the Grouts can fill. He has given Richard and Judy a wonderful network of good friends and supporters in Russia, Finland, Norway, Sweden, and in more than twenty states across America. They are always grateful for supporters who visit them in Russia. In the winter Richard and Judy are involved in the Hobe Sound ministries.
Recent Newsletter