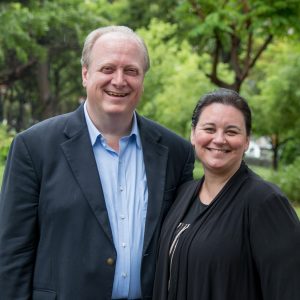 David, from the countryside in North Carolina, was called into the ministry when he was a very young boy and has faithfully fulfilled that call in the US and abroad since the age of eighteen. During her high-school days, Christina surrendered her life to Christ and to a future as a missionary. She saw that ministry begin nearly twenty years ago when she and David first went with their two children to the Philippines.
In addition to sixteen years of pastoral ministry in US churches and Christian schools, David and Christina have served as foreign, administrative, and educational missionaries since they first began their initial deputation in the fall of 2000.
David and Christina's love for Christian education and discipleship is contagious. They are presently training teachers and pastors in several countries. They are also leading a team of missionaries ministering in several Asian countries through church pastoring and planting and various humanitarian, teaching, and outreach activities.
A Note from the Blacks
"We have applied ourselves educationally and in a lifetime of kingdom work. We intend to use all that God has allowed us to learn and experience to bless the less privileged and unreached people of the world whom God loves so much."
We invite you to join our support team as we continue to disciple believers and train pastors and teachers who in turn will spread the gospel throughout Asia. We need missionaries to respond to the open doors in many Asian countries and to help strengthen the ongoing ministries in China, Taiwan, and Mongolia. In response to this challenge in Matthew 28:20—"Teaching them to observe all things whatsoever I have commanded you: and, lo, am with you always, even unto the end of the world."—we ask you to prayerfully listen to God's voice and either respond by joining our team of coworkers, by praying and fasting often for the advance of God's kingdom in Asia, or by giving to keep the Asian ministries moving forward.
There are hidden churches and schools in China desperately struggling to exist without proper training and material. Our HIM Asia team goes to teach and help. There are children and young people who need to hear about Jesus. We go to the schools, orphanages, and churches to tell this awesome story. There are faithful missionaries and national workers in Asia who pray for strength and support. HIM Asia responds with all available resources. But…we can't go and help in our own strength! We need God, and we need you! We need you to pray for us, share in our financial responsibilities, and by this, join our team as together we serve this vast and needy Asian world.
Recent Newsletter
Read the Black's latest newsletter here.