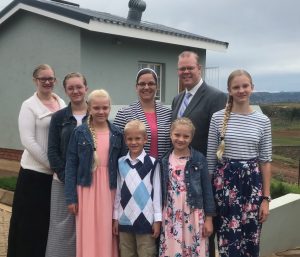 Wes and Misty Peterson have felt God's call to reach out and serve the orphaned and vulnerable children throughout the world. The Petersons moved to Lesotho, Africa, in August 2018 with their 6 children—Kaylee, Karissa, Kathryn, Kara, Clayton, and Courtney. Their passion for orphans is matched by an almost devastating need in Lesotho where a large percentage of children are orphaned. The Peterson's goal is to help make disciples by working with orphans in community-based programs through the ministry of the local church.
Wes and Misty both grew up in missionary families. Wes was born in the U.S. Virgin Islands and later served with his parents in the Cayman Islands. Misty grew up in Papua New Guinea where her family served as missionaries for 14 years.
Misty graduated from Labette Community College with a degree in nursing in 1997 and then graduated from Hobe Sound Bible College with a degree in missions in 2001. Wes attended Hobe Sound Bible College before transferring to Indian River State College where he earned a certification in Computer Information Systems.
Misty's love for children and babies has given her 20 years of nursing experience, primarily working with new mothers and newborns. Wes has over 20 years of business and management experience. They want to use their talent and skills to be a helping hand in a world of need. Using Wes's experience in business, they hope to also develop some business project models that will help the ministries in Lesotho and South Africa become more self supporting with the ability to expand the ministries.
A Note from the Petersons
"We so appreciate the prayers and support of God's people that make our ministry in Africa possible. Please pray for us as we learn the Sesotho language and begin ministry in Lesotho."
Recent Newsletter